Manganese-metabolizing Bacteria Discovered by Accident!
Dr. James J. S. Johnson
For we know that the whole creation groaneth and travaileth in pain together until now.

(Romans 8:22)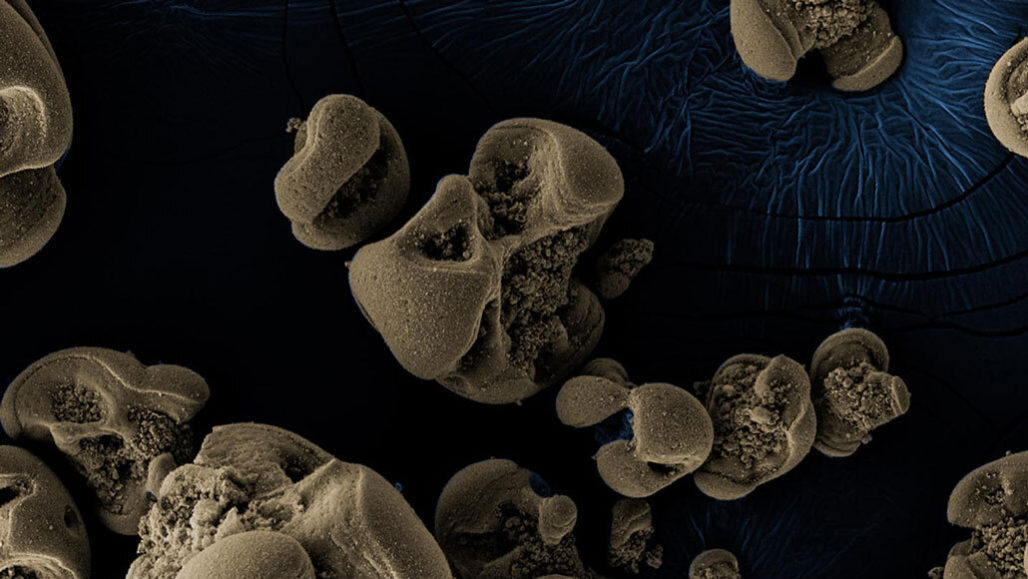 What did your mother tell you to eat, so that you could grow as you should? Amazingly, according to new research published in the journal Nature, some bacteria need manganese as a dietary nutrient, in order to grow.(1),(2) And the discovery of these manganese-metabolizing bacteria discovery was accidental.
Scientists have discovered the first bacteria known to use the metal manganese to grow. And the researchers had to look only as far as the office sink. "It's definitely an interesting story about serendipity," says Jared Leadbetter, an environmental microbiologist at Caltech. He and Hang Yu, also an environmental microbiologist at Caltech, report their fortuitous find in the July 16 2020 issue of the journal] Nature.(1)

[Carolyn Beans citation below]
Everything new, that we learn about bacteria (and other microörganisms), should prompt us to be astounded at the interactive systems design, teleological logic, and intricate details that God has built into these microscopic marvels.(3)
Likewise, the recent study of manganese—on the ocean floor—has shown that manganese is more remarkable than most folks would imagine.(4)
In this case, the discovery was unexpected. So, how did this microbiological discovery occur?
Leadbetter had been working with a pink compound called manganese carbonate [MnCO3, also called manganese(II) carbonate] in a glass jar. After having trouble cleaning the jar, he filled it with tap water and left it to soak. When he returned 10 weeks later, after an out-of-town teaching stint, the contents of the jar had transformed into a dark, crusty material. Leadbetter knew that scientists had long suspected that bacteria could use manganese to fuel growth. … "Maybe I better not pour this down the sink," he thought.(1)

[Beans citation below]
So Leadbetter and his research partner, Hang Yu, devised experiments to determine how the manganese was being metabolized, as chemical "food" (i.e., fuel for energy).
Over a century ago, researchers discovered that bacteria could borrow electrons from chemical elements like nitrogen, sulfur, iron — and manganese. In some cases, bacteria could even use these electrons to fuel growth in much the same way that humans use electrons from carbohydrates in the diet for energy. But no one had identified [specific] bacteria that could [metabolically] turn electrons from manganese into energy.(1)

[Beans citation below]
We re-examined the possibility that previously unappreciated microorganisms from the environment might oxidize Mn(II) for energy. We coated a glass jar with a slurry of Mn(II)CO3 and allowed it to dry, before filling it with municipal tap water from Pasadena (California, USA) and leaving it to incubate at room temperature. After several months, the cream-coloured carbonate coating had oxidized to a dark manganese oxide. We serially transferred the material into a defined medium, which led to the establishment of a stable in vitro culture. … Because manganese oxides have previously been suggested to contribute to the chemical auto-oxidation of Mn(II)20, we inoculated other replicate flasks with a steam-sterilized subculture with oxide products. Even after a year, oxidation had not occurred in uninoculated flasks or flasks containing the steam-sterilized inocula, as predicted by the known chemical stability of MnCO3 under these conditions. However, within four weeks, the flasks inoculated with 'viable material' had generated dark, adherent manganese oxides.(2)

[Hang Yu & Jared Leadbetter citation below]
So, was this processing of manganese really microbiological metabolism? Yes, the researchers concluded.
Oxidation [of the manganese carbonate] required O2 and occurred at temperatures up to 42°C; oxidation occurring optimally between 34°C to 40°C, consistent with catalysis being enzymatic [i.e., metabolically oriented].(2)

[Yu & Leadbetter citation below]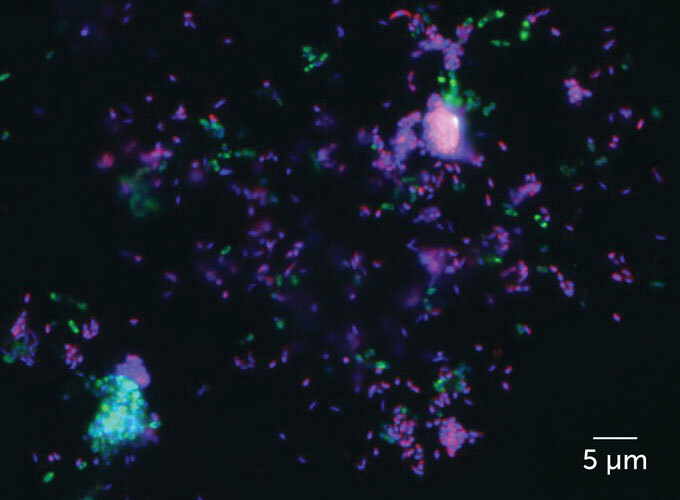 Manganese carbonate occurs (and can be mined) as rhodochrosite, though it is usually fabricated industrially. When manganese carbonate decomposes it yield carbon dioxide and manganese dioxide, in what is called an oxidation reaction. But this time manganese carbonate was recognized as a medium metabolized—via an oxidation reaction—to fuel and to grow a special bacterium, Ramlibacter lithotrophicus.(1),(2)
When bacteria do borrow electrons from manganese, they convert the metal to a dark material called manganese oxide. Manganese oxide is found all over the planet — from deposits in Earth's crust to the seafloor to drinking water. And, as it turned out, in Leadbetter's glass jar.(1)

[Beans citation below]
Could there be any practical benefit form investigating this further? Yes, the researchers say, because it might help us to mitigate some situations involving water pollution.
The findings could help researchers manage manganese oxide that pollutes drinking water, says Amy Pruden, an environmental scientist at Virginia Tech in Blacksburg, who was not involved in the study. "Now that we have an idea of who the manganese oxidizers are, we can start looking for them in drinking water systems and maybe we can find better controls."(1)

[Beans citation below]
Maybe so. Whenever newly discovered information helps us to better serve as managing stewards of God's earth, which is one of mankind's God-assigned responsibilities, it is a "win" for all of us.(5),(6)
Meanwhile, this discovery is yet another example of how intricately God has designed and constructed microscopic life-forms, such as bacteria, to actively participate in biogeochemical processes and cycles that enable the totality of Earth's physical circumstances to operate, according to God's plan—even for this fallen ("groaning") world.(3),(5),(6)
Yes, God has the biodiversity of whole world in His hands—even the manganese-metabolizing bacteria, demonstrating how God values variety!(7),(8)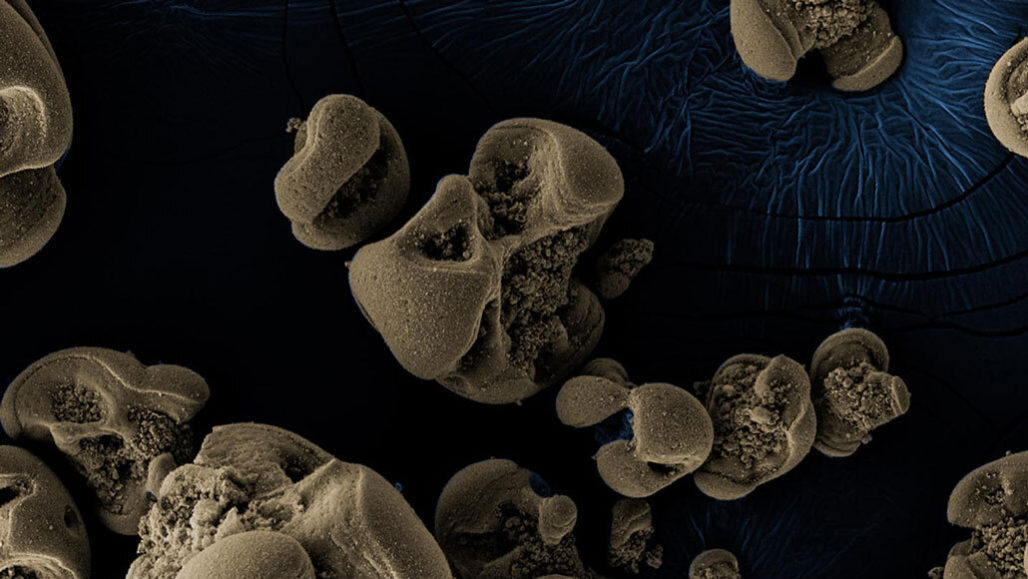 REFERENCES